PowerBar® Performance
Lasting Energy for High Performance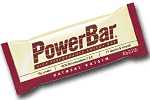 PowerBar® Performance, the #1 energy bar, is a low-fat, highly nutritious energy bar specially formulated to deliver long-lasting energy. Since 1986, PowerBar® Performance has been dedicated to helping athletes and active people achieve peak performance, and has become the "fuel of choice" for top athletes around the world.

Each bar includes special ingredients to help you perform at your best:
Slow-release complex carbohydrates from maltodextrin, brown rice and oat bran for sustained energy in athletic activities
100% RDI of antioxidant vitamins C & E
17 vitamins & minerals
9-10 grams of protein


PowerBar® Performance is an ideal source of energy for all your athletic endeavors. It has the nutrition your body needs, plus it won't melt, break or crumble no matter where your adventures take you.